14/10/2021
Emakina is looking to hire +20 new colleagues in Brussels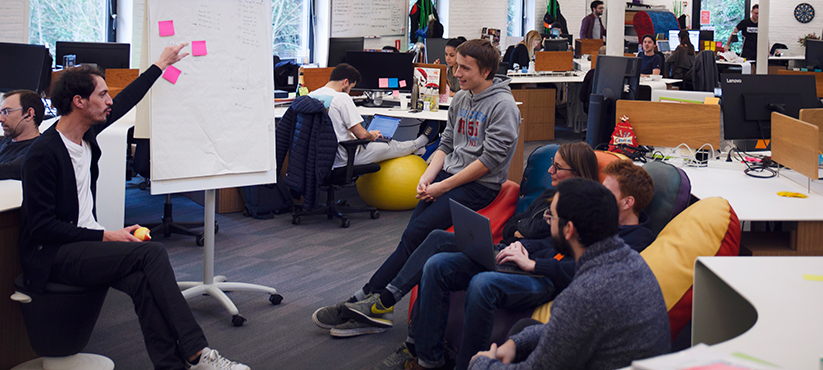 Job opportunities for both junior and senior profiles
Digital agency Emakina is experiencing a new growth spurt and announces +20 new Job opportunities. Its team in the South of Brussels welcomed several new clients, landed new major projects from its existing patrons, and expanded its role in international client work. 'The User Agency', rooted in creativity and technology, recently already hired 15 new people. It is now actively looking for more than 20 extra smart, talented and good colleagues to join its very international gang.
'"There is a positive vibe in our teams and they are all working on innovative challenges. The time is right for top talent to join our growing family," says Tim Wolfs, MD of Emakina.BE. "We have more than 20 exciting job opportunities to fill in. If you want to grow and fullfil your potential by creating rich digital experiences, you really should apply quickly."
Exciting challenges for digital experts eager to make a difference
The new positions at Emakina are for both promising young and more senior talents.
​They range from front end, Adobe and Java/AEM architects to DevOps engineers, and from digital project and account managers to marketing automation strategy, SEA and paid media experts.
The new jobs on a senior level offer excellent opportunities to grow for experienced experts in business development, Java development, digital production, performance marketing, and technical project management.
A full service agency with a truly digital DNA and a big heart
Emakina combines challenging work for class customers with continuous learning opportunities and a fun, social and friendly work atmosphere.
As Account Manager Aurian says: "Emakina's journey is a perfect mix of user experiences, multicultural encounters, a large variety of projects, and a strong culture that creates a deep feeling of ambassadorship."
Creative copywriter Rachel adds: "There's such a culture of working hard to achieve amazing things. We support each other with friendliness, empathy … and tonnes of gifs." ​
Interested talent is warmky invited to check the multiple job offers online...
​As they say at Emakina: when opportunity knocks, open the door and embrace it!