Kentico
Kentico is a robust digital experience platform and content hub tech player that enables upper mid-market as well as enterprise clients with simple requirements to deploy consistent content, marketing automation and commerce capabilities. Over the years, Emakina Group's teams have deployed Kentico-based digital solutions that have often been recognised as the best in the industry, for clients in sectors as diverse as energy, financial services, automotive brands, retail and tourism. Clients include: EVN, Hyundai, Hypo Noe, REWE Group, Konica Minolta, Billa, Goody Kitchen, Carrera, SOS Kinderdorf, World Press Photo, International Ice Hockey Federation (IIHF), ECCO, Högl Shoes and Fermacell. Emakina Group has been a Kentico partner for over 15 years and is rated Silver.


Kentico Xperience


Through its Xperience digital experience platform, Kentico offers mid-sized organisations systematic management of personalised user experiences. It combines all the key digital experience tools in a single fully integrated solution.

This technology boosts the business development of companies and their brands through consistent segmentation of B2B and B2C user interactions across all touchpoints.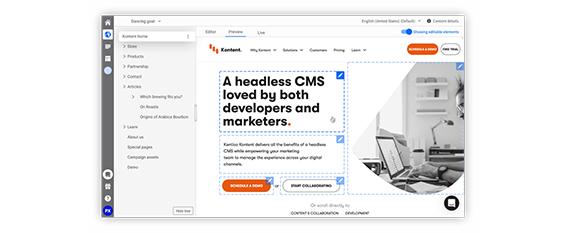 Kentico Kontent


Kontent is a headless content management system developed by long-time Emakina Group partner, Kentico.

Like all CMS built on headless principles, Kontent offers systematic content management and access via a layer of APIs that make this content available through different interfaces and channels. This results in content cost control and increased consistency in brand messages distributed across websites, applications and partner channels.

Emakina Group's teams exploit the power of Kontent technology in composable architectures designed for omnichannel commerce activities. We have advanced expertise in solution architecture, development and maintenance of Kontent-based solutions.
Awards
At Emakina, we're proud to have won – in partnership with our clients – more than 150 awards over the last five years. Next time, you could join us on the trophy shelf.
See all awards
See all awards