About Honda
Agile campaign highlights the pride of Honda
The famous Japanese automaker enjoys a solid reputation in Benelux, however its brand awareness and sales started to dwindle. Since 2018, Emakina has partnered with Honda to bring the brand back where it belongs: top-of-mind in its target group, with greater consideration and higher conversion.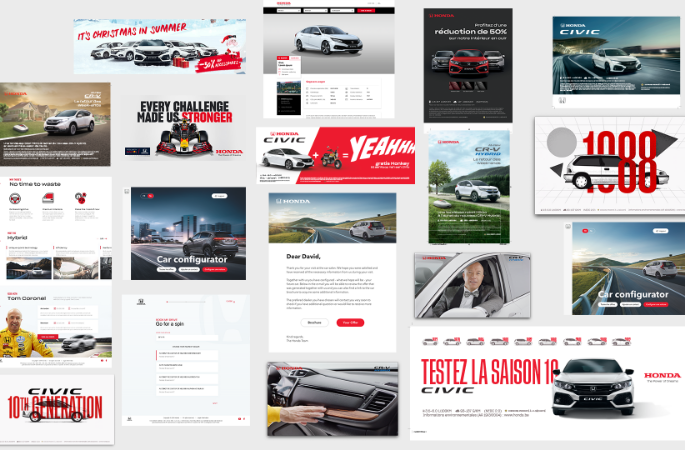 The challenge
Our first recommendation was to adopt a more local approach to communication. Campaigns and assets developed by the parent company do not take these specificities into account (e.g. trilingualism), so our team advised Honda Benelux to develop tailor-made concepts, adapted for the Belgian market. We've since produced TV and radio spots, assets for social media, brochures, posters, email campaigns, and implemented a digital media plan.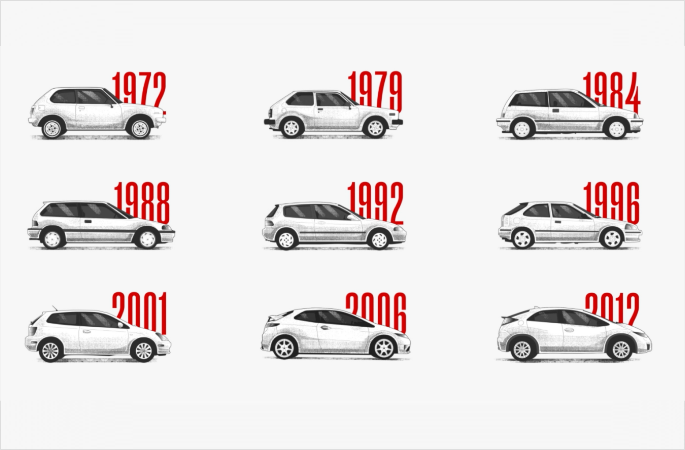 Launched in the 1970s, Honda sells 2000 Civics per day worldwide. Ten generations after its creation, this flagship model – manufactured in the UK – is still as successful as ever. With Brexit looming and all vehicles needing to be registered before 1 April 2019, we had to find a way to drive web traffic and stimulate sales before that deadline – and fast!
The solution
Emakina was up against a few challenges. Firstly, with just one week from concept to production, there was no time for photo shoots. Secondly, the model we were selling wasn't new. To allow Honda to take advantage of well-priced media space, we developed a highly visual poster campaign.
We decided to highlight the latest model, while paying tribute to those who preceded it. Using talented illustrators and a slogan that sounds like a TV series, we came up with 'Test Drive Season 10'. The campaign emphasised the longevity of the Civic (highlighting the 10th generation), while recalling the previous 'episodes' of the model that made it famous.
The results
Thanks to the dedicated team set up for Honda, Emakina mobilised all its experts (strategists, creative people, designers, illustrators, motion designers, etc.) to work to guarantee a quick response. We welcomed the Honda team into our offices to be able to work nimbly, quickly and efficiently.
We completed the campaign in just one week, from concept to production. Since the start of our collaboration, Honda's spontaneous awareness in the 'mainstream' automotive sector jumped dramatically to 20% in Belgium and 12% in the Netherlands. Purchase intention increased by 12% in both markets.
19%

of respondents saw the billboard campaign

14%

of respondents saw the banner campaign

24%

of viewers expressed an intention to buy it
45%

found campaign "enjoyable to watch"

57%

found it easily understandable