Emakina
After Commerce @ Berns
Välkommen!
After Commerce @ Berns
Välkommen på härligt mingel i en avslappnad miljö på Berns!
Tisdag eftermiddag den 21 juni 17:00 – 19:00 träffas vi på Berns (Spegelsalen & Spegelbaren) för "After Commerce", en after-work för oss som lever och andas e-handel.

Här bjuds det på fri bar, asiatisk finger food och inspirerande samtal. Vi inleder med en 20-minuters presentation kring hur vi på Emakina skapar stark digital tillväxt för kunder med begränsade resurser. Därefter minglar vi med branschkollegor och några av Nordens främsta experter.
Det här vill du helt enkelt inte missa!

För värdskapet står Emakina Group, ett EPAM-företag; en ledande grupp av digitala byråer med global räckvidd. Med 1500+ experter arbetar våra team i 25+ länder tillsammans med våra kunder för att växa deras verksamhet. Emakina har kunder såsom Marlies|Dekkers, Rituals, Stockmann, Intersport, Suitsupply, ECCO, Paula's Choice, Maserati, Baume & Mercier och Courir.

Registrera dig via formuläret. Mer information kommer skickas löpande!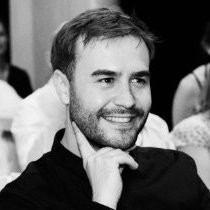 Talare #1
Dimitar Petkov
Genom hennes banbrytande design och utmärkta passform startade Marlies en världsomspännande underklädesrevolution. Pionjären inom lyxunderkläder, med huvudkontor i Amsterdam, säljer online och offline i mer än 20 länder och har vunnit ett flertal internationella priser som t.ex 'ELLE's Innovator of the Year Award', 'Prix Veuve Clicquot Business Woman of the year' och priset Grand Seigneur.

En av kvällens inspiratörer, Dimitar Petkov, ansvarar sedan ett halvt deccenium tillbaka för marlies|dekkers online-närvaro och digitala tillväxt.