2017-05-01
Emakina wins two major EMEA Demandware Awards

Demandware CEO honours Emakina as its 2016 EMEA Sales Partner of the Year and Runner-Up EMEA Implementation Partner of the Year
At the Exchange 2016 event in Florida, Emakina receives two important trophies for excellence, from leading ecommerce software company Demandware. Emakina not only took home the prize for 2016 EMEA Sales Partner, but also for Runner Up EMEA Implementation Partner of the Year. Demandware CEO Thomas Ebling handed the trophies to Sjoerd van Gelderen, CCO of Emakina.NL.
Demandware, the industry-leading provider of enterprise cloud commerce solutions, enables the world's premier retailers to move faster and grow faster in our complex, consumer-driven world. The 'Sales Partner of the Year' Award is presented to those partners which provide the largest business growth for the Demandware community through innovative solutions that meet clients' commerce needs.
Tom Griffin, senior vice president, corporate development for Demandware said:
"The Demandware Partner Ecosystem is a cornerstone of the company's success.
It is a great honour to work with leading partners that provide innovative solutions and services to our mutual clients in support of their industry leading digital commerce experiences. Congratulations to Emakina for winning the 2016 EMEA Sales Partner of the Year award and the Runner-Up EMEA Implementation Partner of the Year Award."
Emakina has an outstanding cooperation and client implementation track record with a string of successful Demandware projects. The collaboration combines speed and reliability in implementing Demandware solutions with excellence in creating commerce platforms requiring complex functionalities.
Emakina has delivered a range of top performing Demandware commerce platforms for international brands like WE Fashion, Suitsupply, RITUALS, LolaLiza, Marlies|Dekkers, Markafoni, McGregor, Fontem and Floris van Bommel.
Sjoerd van Gelderen, CCO at Emakina.NL added:
"We are enthusiastic Demandware partners since 2013, and this year Emakina became a Premier Partner. It's great to boost our clients' online sales and brand value together and leverage the power of Demandware in commerce, order management, predictive intelligence and point of sale. We're looking forward to creating more first-class customer experiences for our clients, and to further develop our cutting-edge collaboration."

Emakina wins two EMEADemandware Awards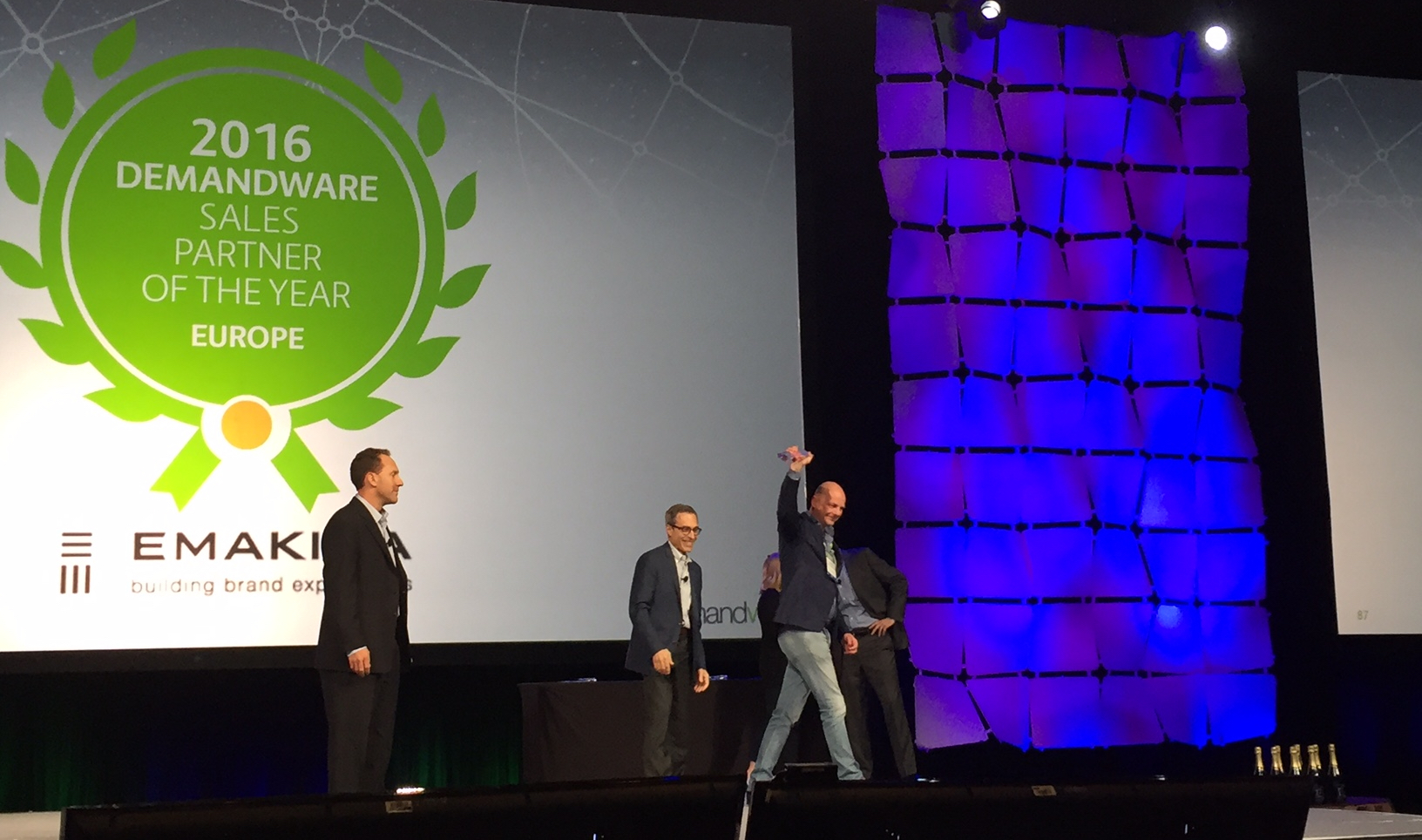 Emakina.NL CCO Sjoerd van Gelderen receives the Award

Demandware Logo