Kentico
Kentico is a robust digital experience platform and content hub tech player that enables upper mid-market as well as enterprise clients with simple requirements to deploy consistent content, marketing automation and commerce capabilities. Emakina Group has been a partner of Kentico from its inception almost 15 years ago, thanks to its Central and Eastern European teams. The Group's competence centre and delivery centres of Vienna, Zagreb and Poznan collaborate closely with client teams working for companies such as Konica Minolta, Segway, Bardahl, REWE or Hyundai.


Kentico Xperience

Kentico Xperience combines content management, digital marketing, and commerce into one seamless digital experience platform.

Get all the key digital experience tools you need in a single fully integrated solution. Whether you need to create websites, send newsletters, or sell online, there are no limits and no extra costs.

Provide customers with personalized experiences on the web, mobile, email, and other channels. Create touchpoints that offer unique content to different types of visitors or dynamically change what they see according to the actions they perform.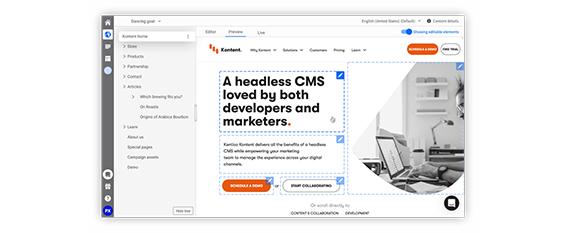 Kentico Kontent

A headless CMS loved by both developers and marketers.

Kentico Kontent delivers all the benefits of a headless CMS while empowering your marketing team to manage the experience across your digital channels.

Modular content frees developers to build any experience on top of their favorite tech stack. After the initial build, marketers can create new experiences and manage the components that appear across every channel.
Awards
At Emakina, we're proud to have won – in partnership with our clients – more than 150 awards over the last five years. Next time, you could join us on the trophy shelf.
See all awards
See all awards