About the project
Turning everyday cooks into lifelong fans
In 2018, Emakina was asked to create a year-long 360° communication plan for KitchenAid, with the goal of increasing year-on-year growth by 3% in D2C. Four years later, we're continuing to smash annual goals, evolve the brand in EMEA regions and set creative global benchmarks.

The challenge
KitchenAid is loved and adored in the US, but in the rest of the world, the market share was down by 20%. There was a lot to prove in the region as a competitor brand with a higher price point. We dug deeper into the reasons for the market decline to find insights to help us add some spice to the KitchenAid story in the region. We needed to focus on building the brand story, creating a strong voice and a unified look and feel.
Nearly everyone is curious about food, making it or enjoying the moments it creates with loved ones so we knew that by applying a little 'EMEA flavour' to this American love brand we could appeal to a wide audience of serious and not-so-serious cooks.
Creative with local flavour
Our initial brief was to focus our creative work in 5 countries which has now grown to more than 30.
One of our biggest campaigns to date was launching 'Make Moments Unforgettable'. And there's no 'copy/paste' approach from us – every campaign and execution are bespoke and localised from the first briefing to the final creative. We search for insights that add authenticity to our creative work to allow consumers truly connect with the brand.
We are also proud to launch each new 'Colour of the Year' where we create vibrant campaigns and take over each channel with a fabulous new colour.
At the heart of the creative work we produce are the quarterly lifestyle photography shoots. Inspired by KitchenAid's legacy as a colour authority we bring life to local, seasonal recipes while putting a focus on the products and all their creative possibilities.
On social media, we've been overachieving on every front. We needed to grow the KitchenAid community, own the conversation around food and sell a few appliances along the way. Through our vibrant, animated, relevant and useful in-house content, our community has grown 27%+ D2C in four years with 70%+ engagement per month.
A standout, ongoing, digital project is our ambitious 'replatforming' exercise that will dramatically improve KitchenAid's e-commerce offering, driving more revenue and better user experiences.
Creative work that's done in Brussels is regularly executed internationally and has gone on to become recognised as the global standard for work done by KitchenAid, growing the bond between the agency and its biggest client.
Testing & learning
Our tailor-made strategies across all touchpoints for KitchenAid have created seamless omnichannel communications. Our agile approach has worked particularly well when it comes to performance optimisation. The team also keeps a close eye on performance data reporting to KitchenAid HQ on what works and what can be improved.
From internal roles and responsibilities to regular A/B testing of creative work, never resting on our laurels, we are comfortable with the uncomfortable, and always try out new things.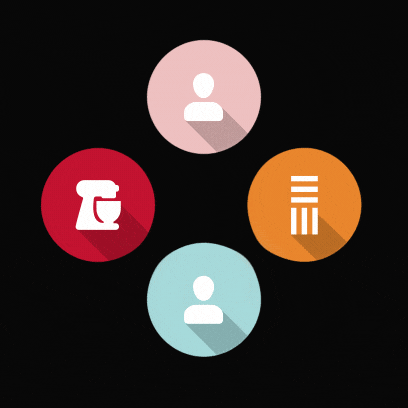 An Emakina ecosystem
To handle the exponential growth of the work and the team, we created an entire 'Emakina Ecosystem' - a unique way of working we developed specifically to handle the needs of KitchenAid.
We never work in silos, constantly building bridges between job tracks and creative work to unify the brand, ensure quality and create synergies between every team.
The results
What started as a 12-month brief has grown into a close 4-year relationship that is reflected in the scale and quality of the work Emakina and KitchenAid do together today.
The

Emakina

KitchenAid team has grown from just 5 to

dedicated team members

Increased by 2 to

15

specialised services

2 services to a

360°

campaigns including classic advertising
Revenue only in D2C

e-commerce sale since the start of the partnership

social media engagement in 2022

Covering

countries by 2023