About Lindemans
Wind of chance rewards with prizes and unique beer
To create a fun promotion to boost sales, increase engagement and strengthen the Lindemans brand, the Brabant brewery reached out to its long-time partner, Emakina. Our campaign idea, 'Wind of chance', perfectly summed up the brand's main difference – making beers fermented by wild, airborne yeast. It also opened the door for memorable future campaigns.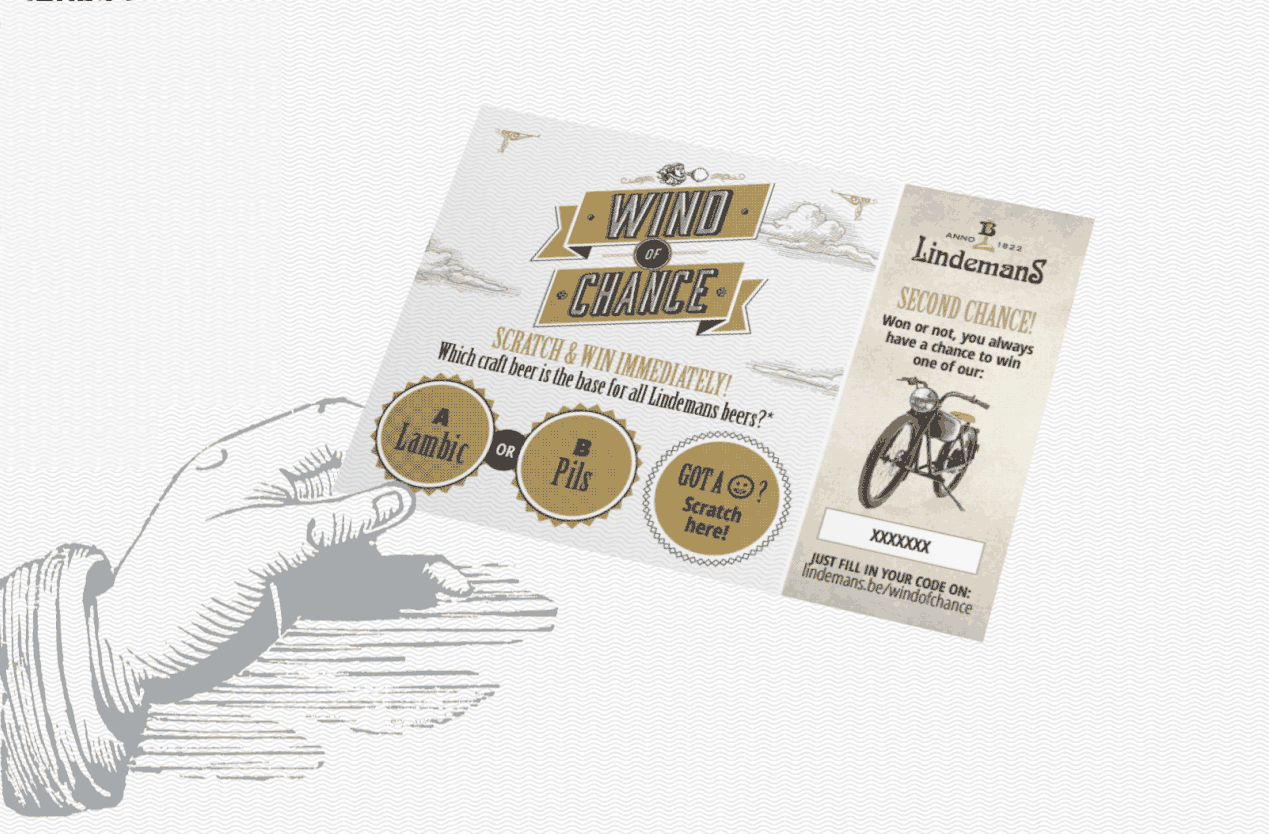 The challenge
Lindemans asked Emakina to develop a campaign around a fun scratch card contest to promote the brand, with 100,000 prizes up for grabs. These included lottery tickets, branded T-shirts, armbands, temporary tattoos, pens and a chance to win one of two eMotorman electric motorbikes.
The solution
Emakina came up with the campaign theme, 'Wind of chance'. This encapsulated the idea that you should let the wind blow happiness in your direction, just as Lindeman's heavenly brews are naturally fermented in the breeze.
We delivered the game idea, worked up the rules, created a fun video, graphic identity and logo, as well as support material. Everything matched the brewer's art nouveau style while marrying a sense of authenticity with a dynamic, young feeling.
A landing page, www.lindemans.be/windofchance, was created to explain the scratch and win promotion. Each person who bought a beer in Netherlands and Belgium received a card with a chance to win a prize on the spot by answering a question correctly. By entering their unique code on the website and answering another question, they had the chance to win an electric motorbike.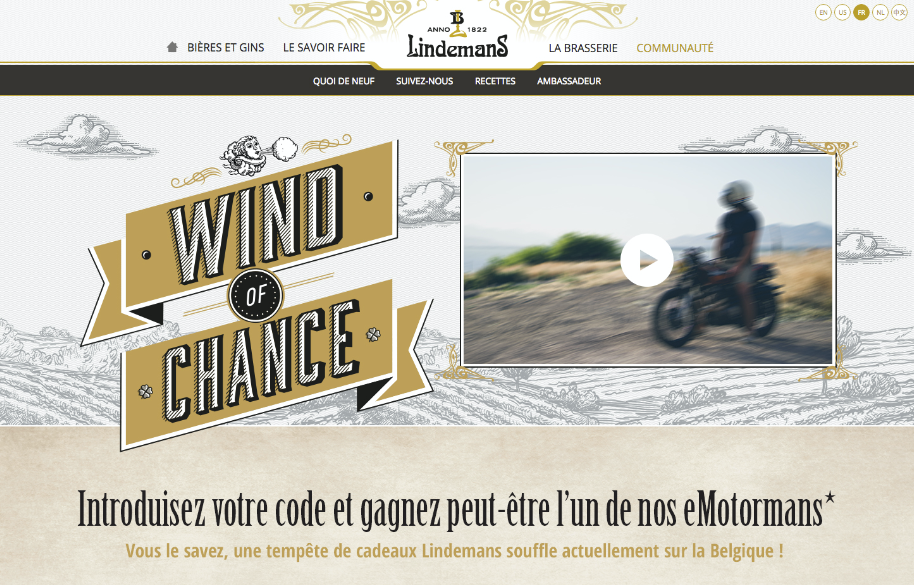 Emakina produced a quirky video alongside adverts, social media messages and promotional material, targeting both consumers and retail spaces. The campaign also aimed to promote these Flemish beers in the Belgian French-speaking market.
The results
In just four months of the campaign running in the Netherlands and Belgium, it exceeded the client's expectations in terms of engagement and increased revenue. Lindemans is now looking at further horizons to develop international sales, particularly in America and Asia.
"The creative work fits perfectly with Lindemans' identity in both language and design. 'Wind of chance' is a great idea to sum up this campaign and use in other promotions and competitions in the future."
88,609

video views in France

1.2M

impressions in France
115,004

video views in the Netherlands

1.3M

impressions in the Netherlands

5K+

web clicks in the Netherlands