Project Description
No break in, no limits
ECCO wanted to relaunch its range of leather boots as ECCO Heritage Boots, including a brand-new workwear-inspired range. To stand out in this highly competitive and popular footwear category, the brand asked its long-time partner to come up with a striking and strategic winter campaign that could be rolled out in over 44 different markets.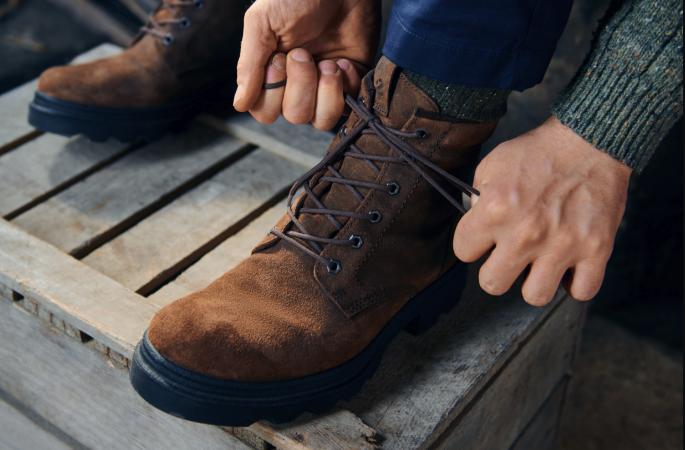 The challenge
ECCO boots had low market awareness and lacked the legacy of the category leaders. On the plus side, these boots have a unique differentiator we could use to set them apart from more established brands. Unlike other workwear-style boots, ECCO's Heritage Boots not only have rugged durability but also don't require breaking in, making them immediately comfortable and wearable. This gave way to our new strategy: that ECCO wearers can live their most authentic life from the moment they put on their ECCO Heritage boots. Because these boots are made for living and designed to last a lifetime.
Our solution
During our research, we discovered that the average pair of boots takes 100 hours to break in. Just like that, we had the perfect creative hook to hang our campaign on. A campaign that focused on the first 100 hours of a pair of ECCO Heritage Boots, to show they're made to be enjoyed right out of the box – a stark contrast to what people experience with other boots. Our concept was to dramatise just how much you can experience and achieve in perfect comfort during those first 100 hours.

To highlight this, we needed to find real people who were Legends in their fields, and whose craftsmanship and passion would be supported by the real-world durability and comfort of ECCO Heritage Boots. We created a campaign that was authentic and true to the values of ECCO, introducing our Legends as they work in challenging environments. Our work showed them performing at their best and accomplishing great things during their first 100 hours in their ECCO Heritage boots.
With an incredibly tight timeline of three weeks, multiple location requirements and the the largest budget ever spent on an ECCO category campaign, we needed to deliver a film and photographic campaign that ECCO could use across digital, in-store, broadcast and out-of-home media channels. Taking our crew and Legends from the docks of Rotterdam to the peaks of the Italian dolomites, we showcased ECCO's Heritage boots on a custom motorcycle manufacturer, a mixed media artist, a nature photographer and a chef restaurant owner, successfully producing an atmospheric winter campaign in the middle of the European summer.
The results
Client feedback on the campaign was overwhelmingly positive and we were soon briefed on another ECCO project.