19/10/2021
Emakina wins four W3 Awards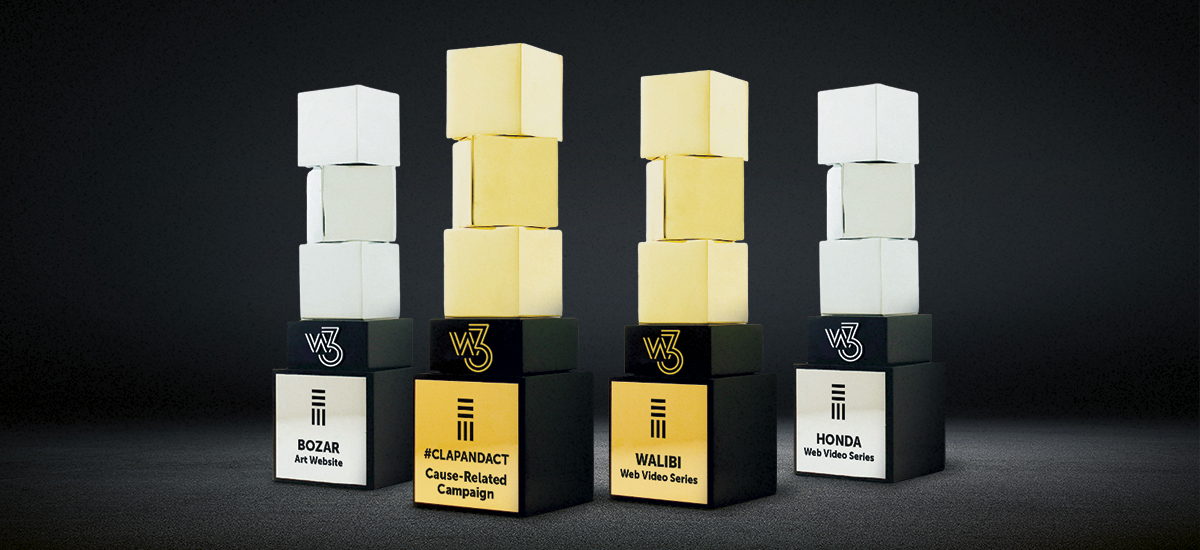 Gold with Walibi and The Belgian Hospitals Fundraising Initiative; silver with Honda and Bozar
Emakina adds four W3 awards to its international trophy collection. The American Academy of Interactive and Visual Arts honoured the User Agency's excellence in marketing, video creation and web building for projects with Walibi, The Belgian Hospitals Fundraising Initiative (coordinated by Fondation Saint-Luc), Honda and Bozar.
Gold for #ClapAndAct
Emakina won gold in the category 'Cause-Related Marketing' for its #ClapAndAct campaign developed with the Saint-Luc Foundation and the Belgian Hospitals Fundraising initiative. With a very limited budget, 600 hours of pro bono work, and the support of well-known people and many citizens, the campaign collected 2.2 million euro, uniting people across the country in support of Belgium's university hospitals.
A second golden W3 for Walibi's Kondaa video series
Emakina's Brussels team created the award-winning video series as part of a broad communication campaign launching Walibi's new mega-coaster. The Kondaa campaign targeted both families with young children and young adults. Walibi's partner agency developed "The Legend of Kondaa" on the website, in video's, radiospots and graphic designs. Emakina's motion experts managed the audiovisual production, including the sound design.
Honda's refreshing web video series and the innovative Bozar website win silver W3's
Emakina's video team won a shining silver W3 Award for its Honda 'A question of Choice' campaign online video series. They followed acclaimed photographer Elisabeth Verwaest, as she meets 3 Belgians, Manon, Dries and Geert who share their choices in life and their easiest choice of all, buying their their Honda Jazz, Honda CR-V, and Honda e.
Last but not least, Emakina added a Silver W3 Award with Bozar for the Best Art Website. After intense research, strategy and project scope work, the team created an elegant and intuitive online platform for Brussels' leading Center for Fine Arts. The new website combines a single sign-on with state-of-the-art ticketing and a truly immersive AI-driven omni-channel experience.
"Our collaboration is always built on trust," commented Tim Wolfs, MD of Emakina.BE. "As the User Agency, we consider every project as an opportunity to share our strategic and technical knowledge with our client, become one team with them, and improve their relationships with our true patrons: their end users. So, these awards are a tribute to each partnership we build, and they celebrate each end user we reach and touch!"