About the project
Great digital journeys make amazing voyages
Louvre Hotels Group wanted to give users an inspiring, seamless online experience to compete with innovative online travel agencies. The complete redesign of LHG's digital strategy materialised in a fantastic user experience. It included the new reservation system, revamped online hotels and personalised digital journeys. The storytelling was built around the concept 'Play time. Any time' to help users make the most of every moment of their trip.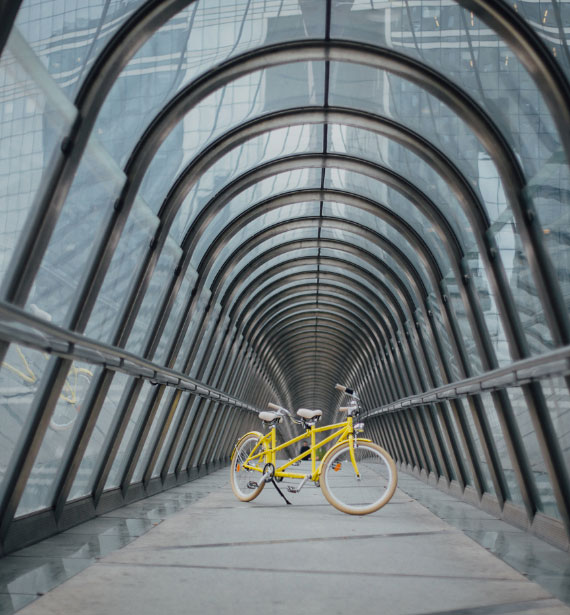 The challenge
As part of its digital transformation, (LHG) had to give users a fluid and rich omnichannel experience and renew its reservation system. Emakina's mission involved the design and implementation of a digital strategy adapted to the 5 hotel brands — Golden Tulip, Campanile, Kyriad, Première Classe and Louvre Hotels — and to the holding group.

This encompassed user experience, brand strategy, web building, hotel digitisation, a Data Management Platform and Content Management System. While the entire project was initially designed for the Golden Tulip brand, it was designed to be rolled out later on.
Our solution
We developed a completely new design that gives users an unforgettable experience before they even set foot in a prestigious Golden Tulip hotel. The richness of the experience is thanks to the UX, wireframes and design being developed with rigorous consideration of our user insights and functional analysis.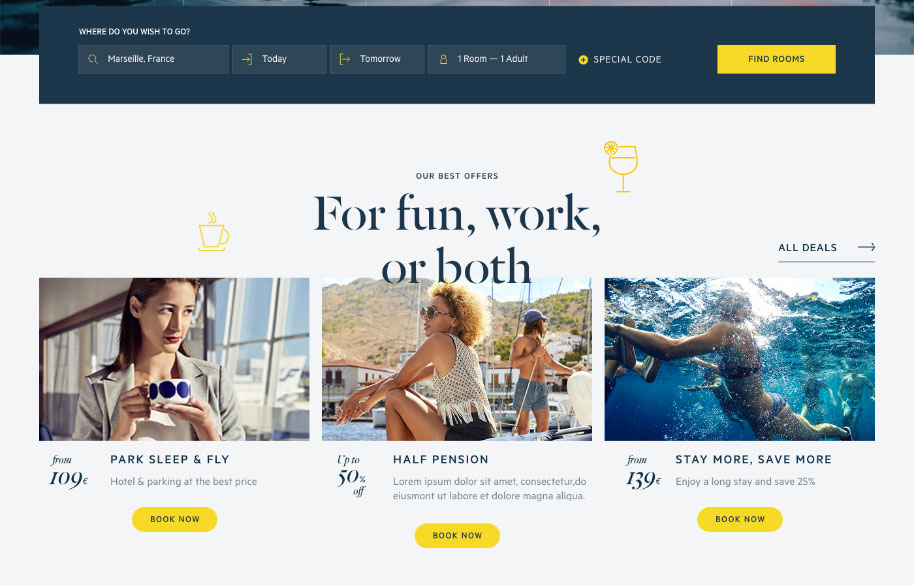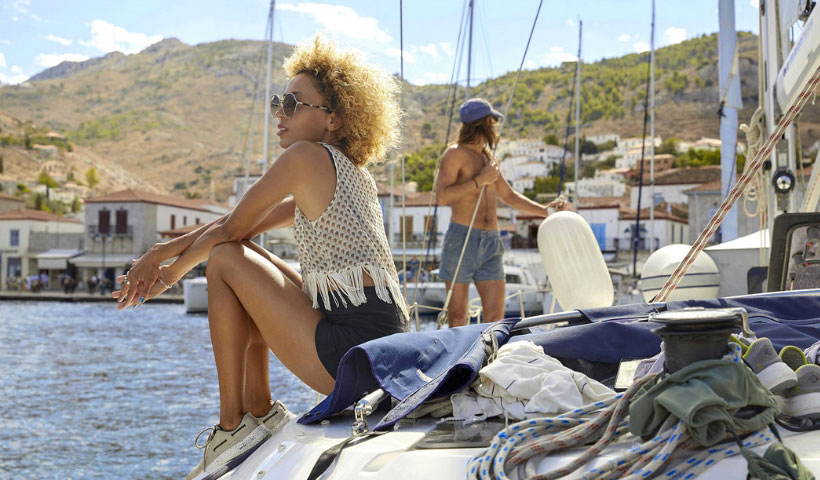 Our step-by-step process: 1
Creation of digital user journeys
to identify the needs and challenges of each audience at every step. Our Insights team investigated the human dimension through a rigorous research methodology applied to 5 key countries and various stakeholders.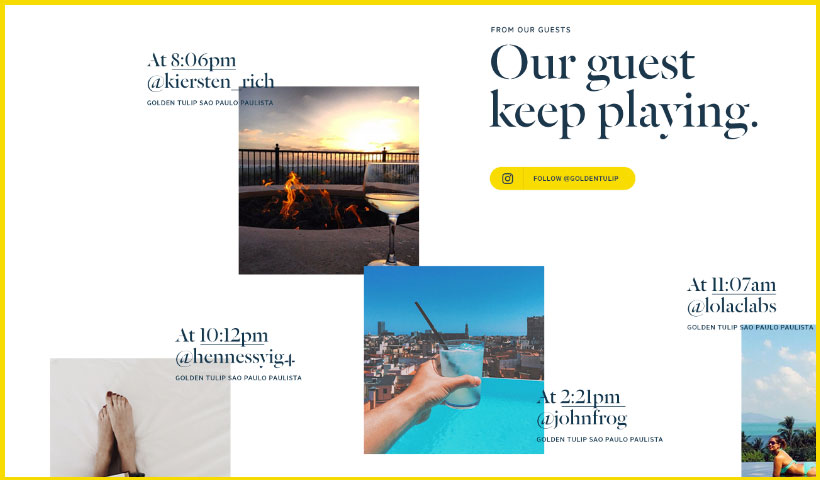 Our step-by-step process: 2
Defining a new digital experience
with a main focus on websites, as well as other touchpoints such as blogs and emails, mobile applications, digital solutions within hotels, and advice on social networking platforms.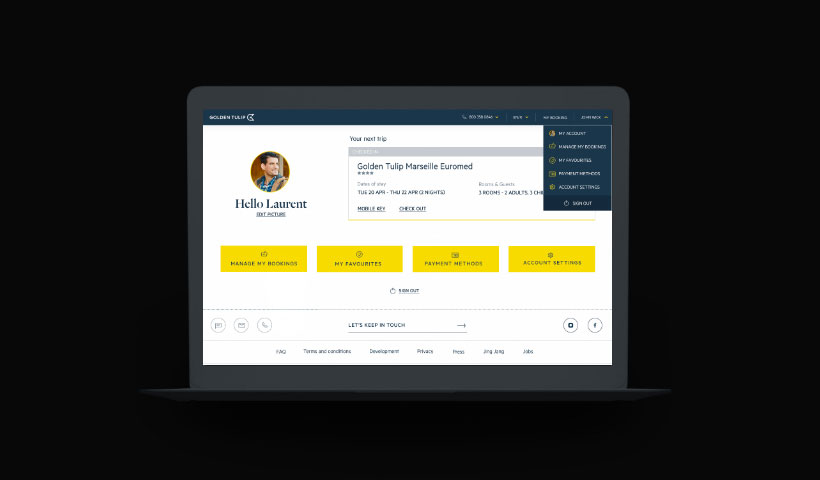 Our step-by-step process: 3
Identification of visitor flows
on digital channels to improve conversion rates. We conducted an in-depth strategic work on the conversion of LHG's own sites compared with conversion via booking.com, including functional analysis based on workshops.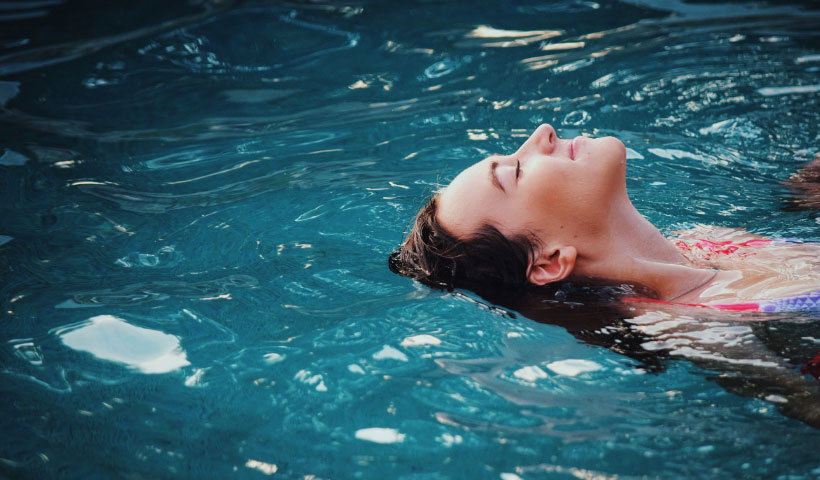 Our step-by-step process : 4
Audit of the existing digital ecosystem
and identification of touchpoints. An audit of the ecosystem was the foundation for our strategic advice on the channels to be invested in. We then established the content strategy for each of them.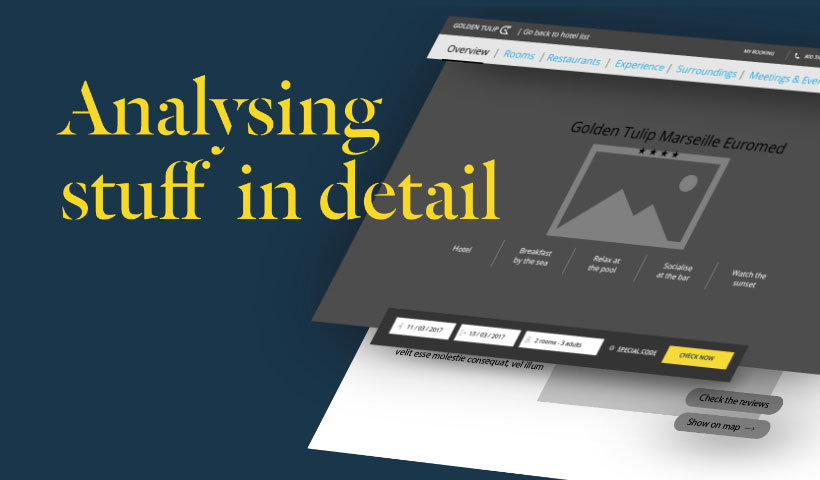 Our step-by-step process: 5
Definition of graphic elements
for the different environments to deliver a memorable experience. Working closely with our UX and Insights teams, our designers produced no less than 60 designs (120 in fact, as there was always a desktop and a mobile version).
Emakina's approach was always to put user needs at the heart of the project. Our experts worked with an agile mindset and were able to be swift, flexible, collaborative and efficient.
"Today, it takes the same number of clicks to book a room on the Golden Tulip website as on booking.com"
The results
The concept of « Play time. Any time. » builds on the idea that every day is made up of 24 hours of potential fun, so it's always a good time to explore opportunities. With a playful, energetic tone of voice, we told the story of an unforgettable experience at Golden Tulip.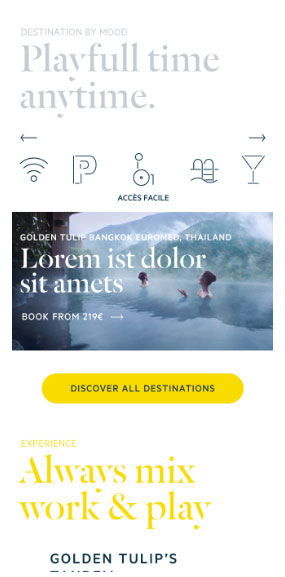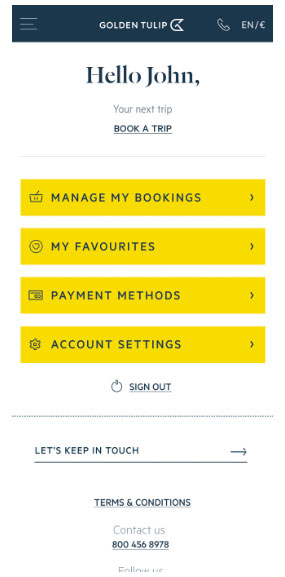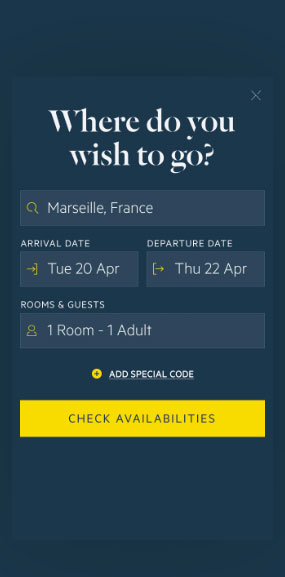 The new digital experience has been greatly facilitated by our initial research work. We continually sought to exceed client expectations and our teams delivered an excellent user experience that was praised by the client and validated by user testing.